What can a tea pet add to your practice? So many things! I'll focus on three here, and then share about a special tea pet, Herb the Traveling Tea Turtle, that visited me.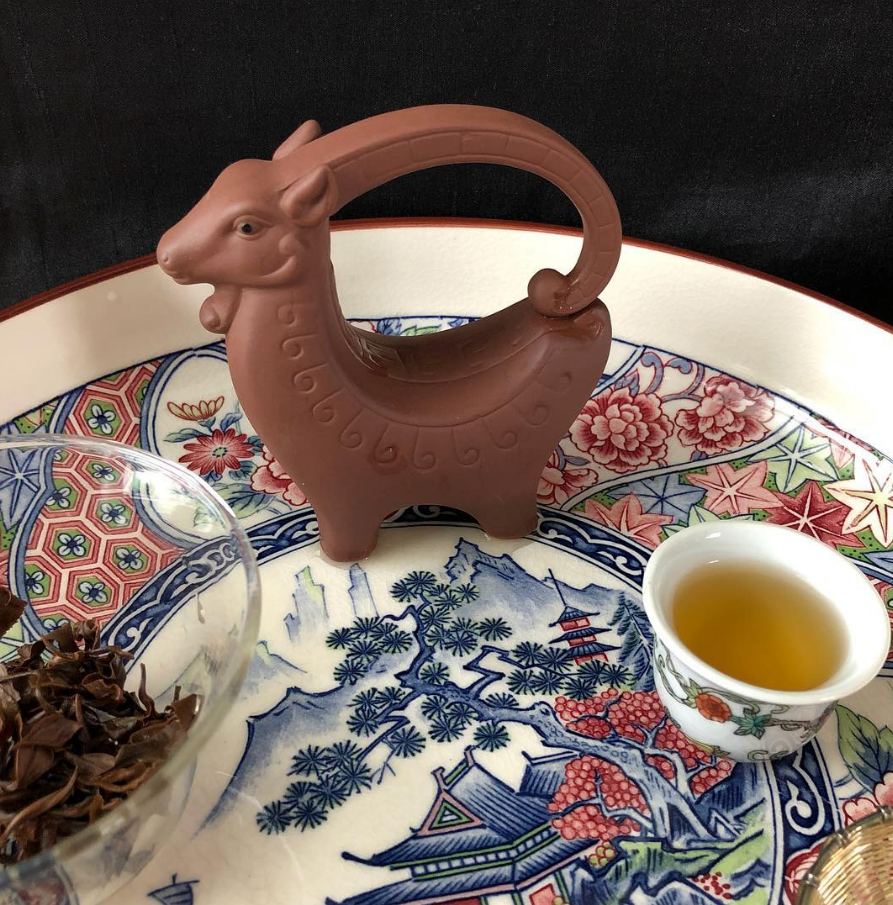 Before I share three of my favorite things about tea pets, let's clarify what they are. Tea pets are not tea mascots. (I have another blog post about tea mascots.) Tea pets are small clay figurines, often unglazed. They can take the shape of animals, people, fruits–almost anything. Tea drinkers pour some tea on them during tea sessions. Tea pets are said to bring good fortune. They are, as you can imagine, fun to use. For more information, Brigitte from Treasure Green gives a great "Introduction to Tea Pets."
There are many reasons to love tea pets and what they can add to your practice. I will share a few that stand out to me: a tea pet can help mark teatime as special, provide a sense of companionship, and add a visual reminder of the passage of time.
Marking Teatime as Special
You can look at every part of preparing your space and making tea as a meaningful element of your tea practice. A tea pet is another element can transform teatime into more than making ourselves something to drink. When we drink tea every day, it's easy to rush through the process. Even on a busy day, however, pausing for a second to do something not strictly necessary—e.g., giving a tea shower to your tea pet–can become a way to make even a quick teatime special.
Sense of Companionship
Despite their small size, tea pets can add a mighty dose of companionship to your practice. The responsibility (joy!) to "feed" another being–even an inanimate one–can bring such a sense of connection and companionship. Giving our clay friend a regular tea shower builds a relationship to your tea-pet friend. You are sharing tea together. Over time, they can become a steadfast, smol tea friend. You might be surprised by the relationship that grows between you and your tea pet! The sense of companionship is hands down my favorite part of sharing my tea tray with a tea pet.
Visual Reminder of the Passage of Time
Another bonus a tea pet can add to your practice is a way to visually mark time. There are the moments they go from dry to dripping with tea. Later, we notice them become dry again. Additionally, unglazed tea pets build up a beautiful patina with use over time. So, you can see them transform from duller to glossier over months and years. It's very satisfying to see them develop that tea "glow."
Special Gratitude to a Traveling Tea Pet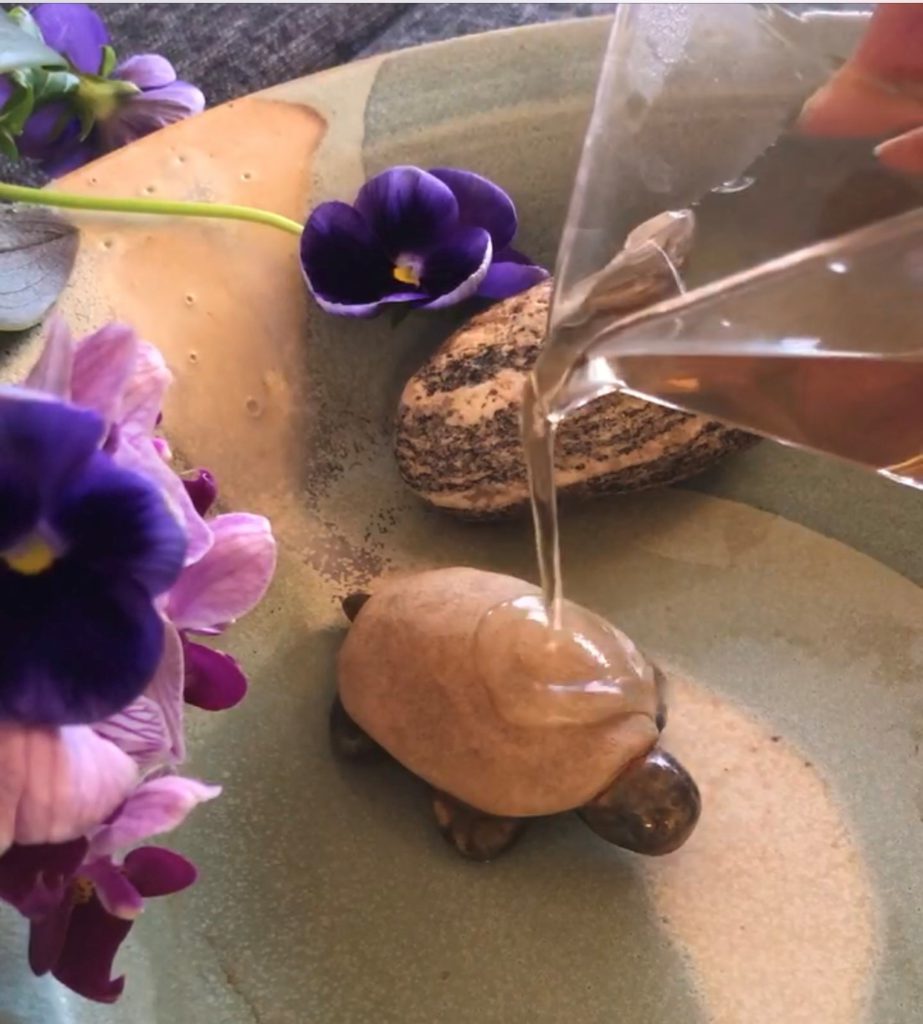 This spring, I was honored to host Herb the Traveling Tea Turtle. Herb was created by Michell and Derek Hovey when they lived in Richmond, Kentucky (USA). A tea friend, Jenn @barefoottealady, sent me Herb. He arrived with a leather journal. Inside the journal were directions from the Hoveys and entries from previous hosts. Jenn, very generously, also sent lots of teas with Herb. (Thanks, Jenn!)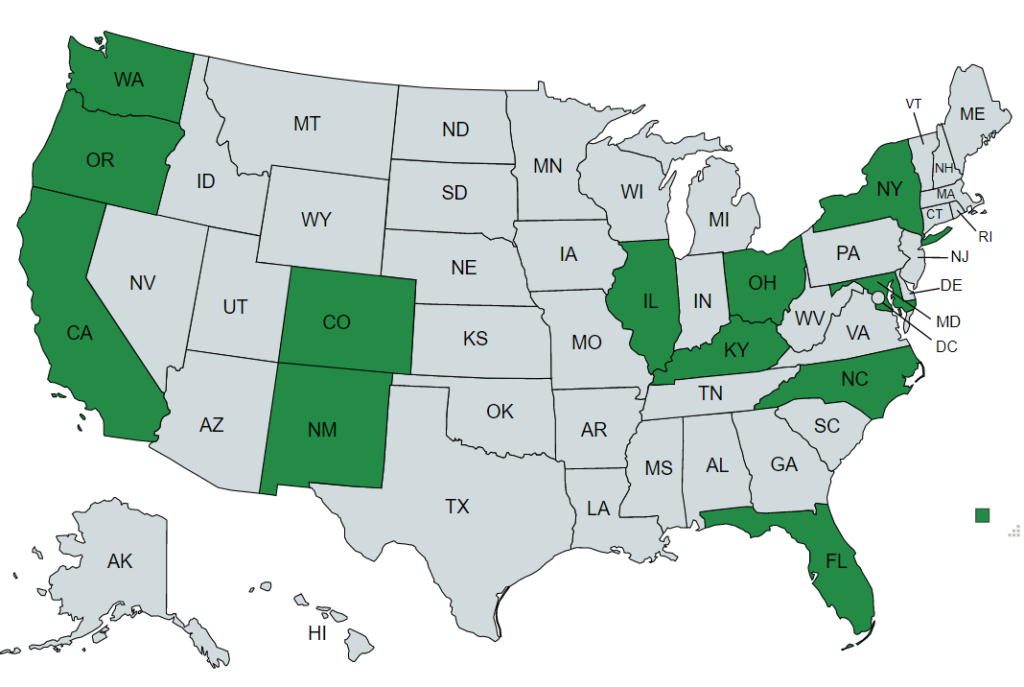 The Instagram account @HerbTheTravelingTeaTurtle documents parts of his adventures. (You can also follow his hashtag #HerbTheTravelingTeaTurtle.) The journal, as you might imagine, is far more detailed. I was delighted–far beyond what I could image—reading the journal entries. Herb was with people during highs and lows–some while they celebrated their birthdays and holidays, some while wildfires raged nearby. He inspired children to draw photos of him. Herb went on desert and mountain hikes, met a bunch of other turtles, and hung out with other tea pets (including my own, Rocco). Herb also joined book club and tea group meetings, crashed with some college students for a spell, and went on picnics.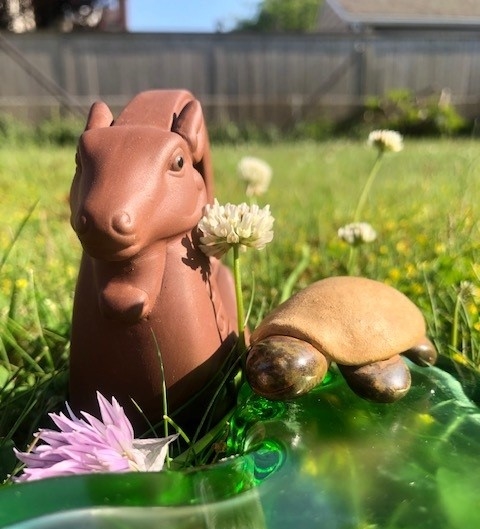 In addition to joining me and Rocco as part of my daily practice, Herb was nearby when I met online with many of my college students at the end of the semester. (I taught mostly in person, but our one-on-one meetings were online.) Herb also attended a number of Being Tea online tea workshops and mindfulness sessions with me. And, he joined our family on a trip to a local tea shop on Long Island (New York) that sells homemade chai and bubble teas. (He couldn't sip teas with milk, of course, but he reported enjoying seeing the bubbles swirl in the milk teas and smelling the delightful chai spices!)
Multiplying the Tea Pet Magic
I was inspired to spread Herb's magic and the gift of connection. So, while Herb was visiting me, I searched for a new tea pet to give to a friend. I hope this tea pet will make her practice more meaningful. I gave that tea pet–a cat–its first tea shower alongside Herb and Rocco. It tickles me to think of how this cat is now part of Herb's story and Herb is part of theirs! (The new tea pet, by the way, did not disclose their gender or name to me—assuming they will after they arrive at my friend's home.)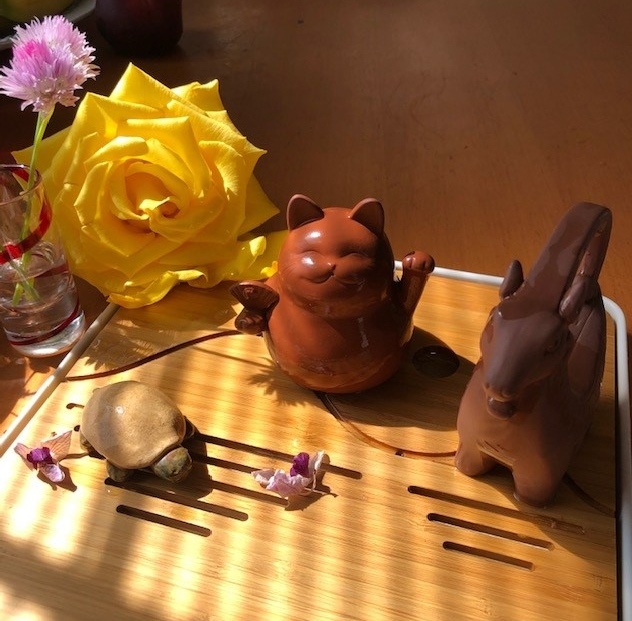 As I spent time with Herb and thought about his creators, hosts, and travels, I felt so connected to this little turtle and all the hands that held him and served him tea. He is a small tea pet with a big impact! Herb has done so much to enchant and connect the communiTEA. I am very grateful–as are Rocco and our new tea pet friend. On the last day of May 2022, that happy clay cat departed to their forever home–the same day that I sent Herb to his new host. The tea tray feels a little empty now. But, I know our tea friends are on journeys to bring more good tea vibes and make more tea connections. Herb's journey continues. If you have a tea pet, we'd love you to share a bit about them in the comments!
Post Script
P.S. I am not the first person to write a blog post about Herb! You can read one by Herb's first tea host, Geoffrey AKA Lazy Literatus! That post also shows the color of Herb's shell before he started getting regular tea showers. By the way, I was delighted to find out that Herb's first tea was an East Frisian blend. I'm a big fan of East Frisian tea and have written a couple of posts about it: "The What and How of East Frisian Tea" and comparing "Two East Frisian Tea Blends."
Eric, the next host after Geoffrey, also wrote a post about Herb. It has lots of fun photos, too!
When Herb made his overseas trip to London, he also appeared in at least one YouTube video with Don from Mei Leaf!
Two trips after he left my home, Herb has made his first foray into the musical world with the help of his host Justin Other! Check out: Herb The Traveling Turtle Presents: The H Isn't Silent (The Mixtape).
Interested in different ways to practice tea? You might enjoy reading my post "Embrace Your Tea Path."