This post shares my experience enjoying afternoon tea at The Parlour in Park Slope. This New York City tearoom is one of two run by Brooklyn High Low. (BKHL also has a location in Prospect Heights.)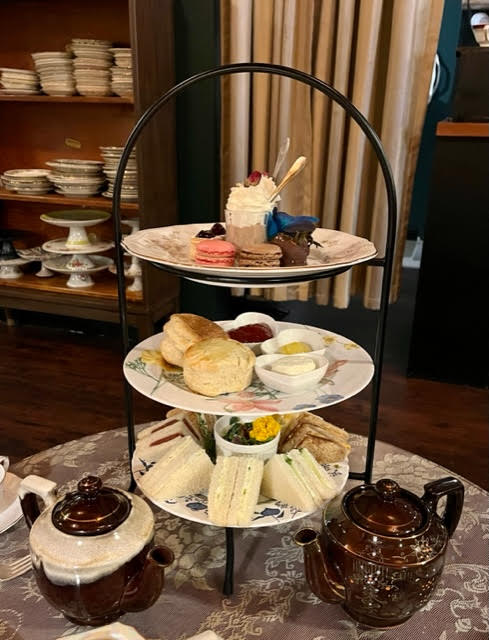 The Parlour's Address: 69 7th Avenue, (under the stoop) Brooklyn NY 11217
The Decor and Service
With draped curtains dividing the foyer from the main main rooms, as you enter The Parlour "under the stoop" of the brownstone, you feel the transition from the street to a lovingly decorated tea space. Teacups, jars of tea, eclectic framed photos, and nice draperies adorn the walls. Comfortable seating dots the long and narrow interior of this townhouse. The seating is a mix of small sofas (or loveseats) and high-backed upholstered chairs. I really enjoyed the physical space. This location has a front room and a back room. Both are very pleasant.
I was focused on enjoying the experience and the company of my friend. Thus, I didn't get enough photos, especially to get a sense of how cute the interior space is!
I appreciated the friendliness, helpfulness, and professionalism of the staff. The service was very good!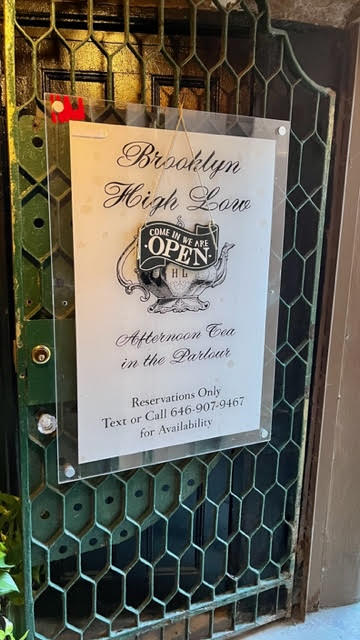 Tea Menu at The Parlour
The tea menu is geared toward flavored teas and herbal teas, with descriptions and ingredients of each. My sweet friend who treated me to this experience chose our teas. (I could have chosen some after the initial two that started us off, but I had enough caffeine to get one with…lol.) Thus, the teas we enjoyed there were all flavored. I enjoyed three of the four teas we tried.
My one critique is how easy it is to not realize that the The Parlour serves unflavored teas, too. My friend, in fact, said she didn't even realize they had unflavored teas when she chose teas for our reservation. It's easy to miss because of how the tea menu is designed. At the very bottom of the left-hand column are a handful of unflavored teas in a list. Unlike the flavored or herbal teas, they don't have any description. Since they take up so much less space and are formatted differently, it's easy to miss them.
The Parlour's unflavored tea selections include some classic British choices like PG Tips and Yorkshire Gold. I did note that they offer a Ceylon and a Darjeeling choice. (There were no details on which tea garden or flush). I did have the opportunity to try one of their unflavored selections later–since they gave us cute little jars of loose-leaf Ceylon black tea as we departed. I steeped that tea at home the next day. It was a classic and very enjoyable Ceylon.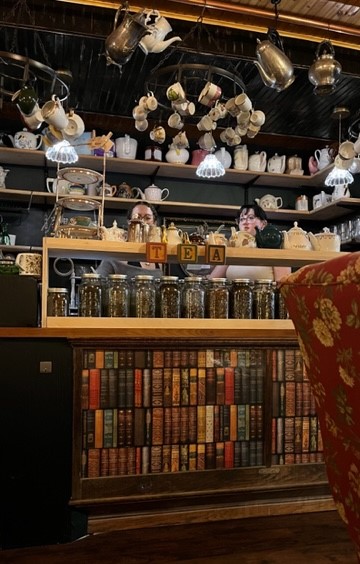 How the Tea Was Served
The tea was brought to us in ceramic teapots. I appreciated that the tea was already steeped and the leaves were removed before the server brought teapots to the table. No worries about removing the tea leaves so the tea didn't over steep, or figuring out where to put a dripping basket of tea leaves! Some people may prefer to be able to control the steeping time. But, for afternoon tea, I prefer to have tea served to me in this convenient way and to not have to worry about over-steeped and bitter tea.
The BKHL: The Parlour has sweet, mismatched teaware, in a range of different styles and colors. One of our (eventually four) teapots, for example, was cream and orange with an art deco vibe. Another was rounded and brown with little white flowers. My place setting included a teacup, saucer, plate. When I expressed interest in not drinking the two very different teas we started with from the same cup, a server cheerfully offered to bring me a second cup, which I really appreciated. (Again, very good service!)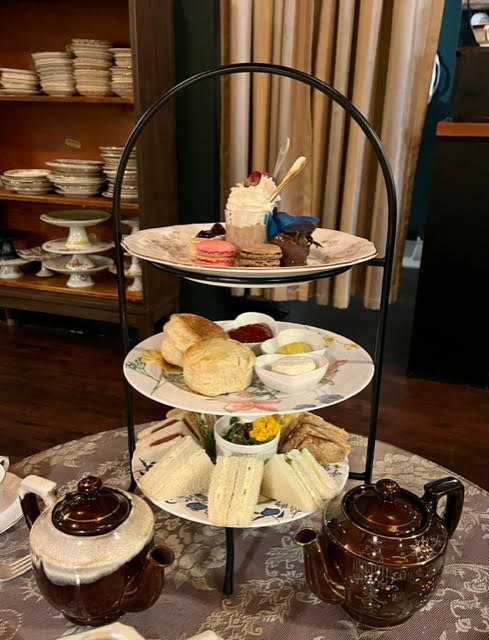 Food at the The Parlour
There was a nice assortment of food at this afternoon tea at The Parlour in Park Slope. We had a carrot ginger soup served in a soup cup. I enjoyed the presentation and the soup. There was also a tasty crumpet with a savory herbed butter spread. We also enjoyed an array of vegetarian tea sandwiches–egg salad, cucumber dill, Branston pickle and cheddar, etc. They were good. I would say the Branston pickle sandwich and mint and peas with goat cheese (a special that day, I think) were very good. I appreciated their sharper flavors.
The scones were very respectable and served warm with clotted cream and strawberry jam on the side. There was a very tasty, tiny salad, too.
I enjoyed the desserts–particularly the small chocolate mousse and the chocolate dipped strawberry. I thought the chocolate was better than the chocolate on most chocolate covered strawberries I have had, and the little gold and silver edible stars made it particularly cute. We had other desserts on our three-tiered tray, too. https://www.brooklynhighlow.com/menu
Cost and Reservations
Afternoon tea at The Parlour in Park Slope (or in NYC, in general) comes at a cost. At the time I am writing this review, the least expensive reservations at the Brooklyn High Low–The Parlour location is $60 per person. (It lasts 75 minutes.) There is also a $70 per person reservation that lasts 90 minutes. 90 minutes felt luxurious for two people in an NYC location. To order gluten-free is possible and is a $10 upgrade if ordered far enough in advance. Reservations are required for Saturday or Sundays, but walk-ins are accepted on Fridays from 2:00-5:00 pm at this location.
The Prospect Heights locations has some different choices–including a cream tea you can order to pick up.
Although I love going to afternoon teas–especially with a dear friend–I have my misgivings about the classic afternoon tea menu. Read my take here.