This post provides impressions of four teahouses in Portland, Oregon. I visited Enthea Teahouse in the Brooklyn neighborhood of Portland, Smith Teamaker on SE Washington Street, and Portal Tea Company (previously known as Tea Chai Té) in Sellwood. I also spent an afternoon at the teahouse operated by The Tao of Tea inside the Lan Su Chinese Garden.

In most of July 2022, I was away on the longest work trip I have ever taken. I was lucky enough to spend three weeks in Portland. On the weekends (and on one enchanted evening), I visited a handful of teahouses Portland. Here are my thoughts.
Enthea Teahouse
Enthea Teahouse is located in the Brooklyn section of southeast Portland. It puts the "house" in teahouse: it is located in a literal house! Inside there are creamy yellow walls, dark wooden tea tables, and lots of gongfu teaware. Charmingly, the teahouse is also dotted with tea pets to keep you company. Enthea generally opens later in the day than the other teahouses I visited and closes later, too. A sign in the teahouse notes it has "over 80 teas for sale" and a rotating food menu centered around "hand-made vegan tea snacks made fresh locally." I had some very tasty pot stickers and a dazzling Wild Purple Moonlight tea when I visited.
Weather permitting, in the summer Enthea holds Friday late evening and night SpeakTeasy events (with conversational topics like ephemerality) or DreamTeasy events (think costume themes) in its enchanting backyard. It's magical to attend a SpeakTeasy, sip tea served gongfu style, and chat while surrounded by bamboo and fairy lights. Community flows with each infusion. BeauTEAful.
Smith Teamaker Tasting Room
Portland was having a historically long heat wave when I visited. The morning I headed over to the Smith Teamaker location on SE Washington Street, by luck, was the only cool and overcast morning during my trip. It was perfect for outdoor tea!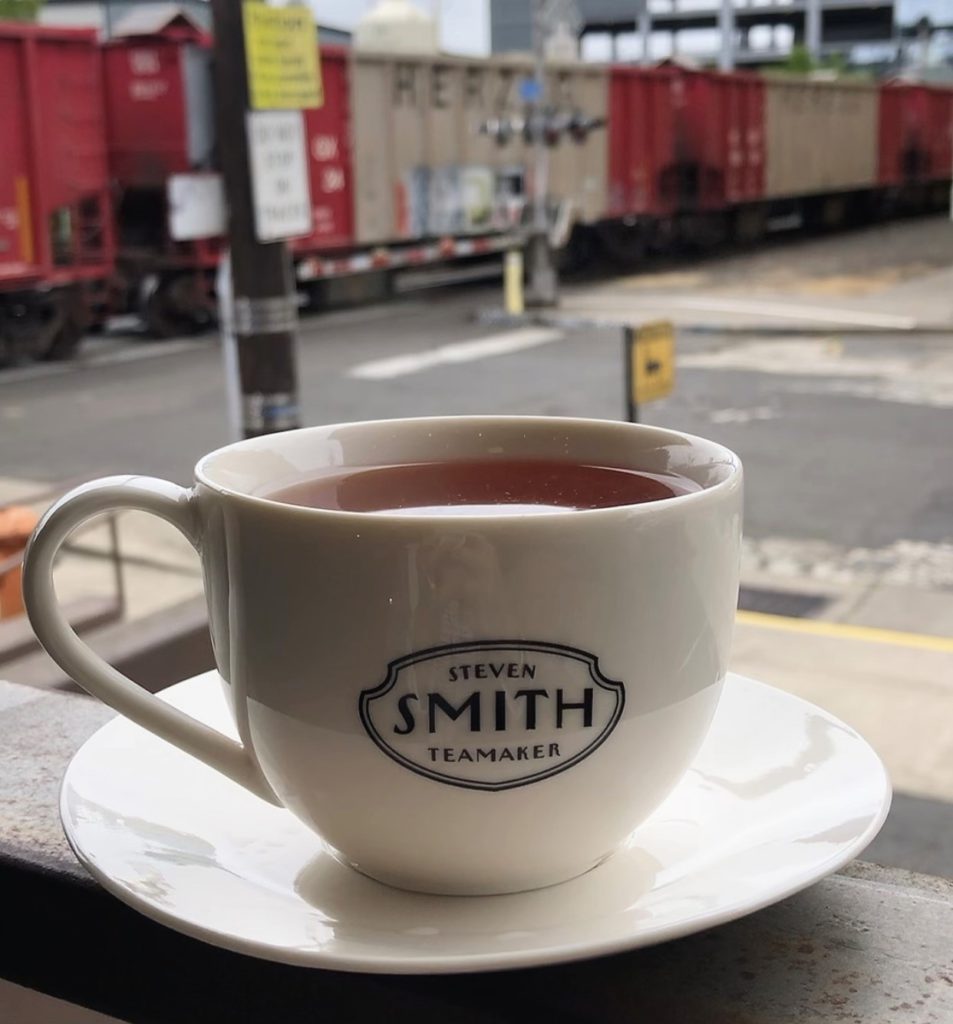 Smith Teamaker has two teahouses in Portland. The Washington Street location that I visited is in an industrial area, close to train tracks. Calming neutral colors (light natural wood, pale gray cement, cream walls, and some black accents) adorn the tasting room inside. A covered porch, flowers, and several tables welcome you outside. It was very relaxing to sit on the porch, sip tea, and occasionally watch trains slowly chug by. There is a small food menu with sweet and savory choices as well as a curated tea menu. Besides cups of hot or iced teas, you can order a tasting flight (four teas to compare), or gaiwan service.
Portal Tea Company
Portal Tea Company, previously known as Tea Chai Té, has three locations in Portland (and one in Eugene). I visited their iconic red caboose teahouse in the Sellwood neighborhood of Portland. At this location, outdoor tables are available in front of the teahouse and in the small courtyard in the back. The interior of the teahouse is much larger than I expected–bigger, by far, than the memorable red caboose through which you enter.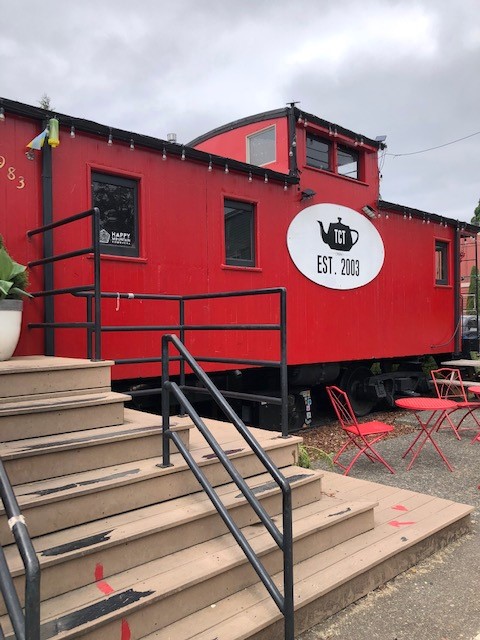 The vibe of the teahouse is cozy: it has different sections and nooks where you can enjoy your tea. There are dark wooden tables and paneling (upstairs) and painted walls (downstairs). Splashes of color from artwork and upholstered armchairs brighten the rooms. Portal Tea Company serves hot or cold tea, including bubble tea. It also has a small food menu.
The Tao of Tea Teahouse at the Lan Su Chinese Garden
Before this long work trip, I had previously only visited Portland on short trips. On those occasions, I visited The Tao of Tea Teahouse at the Lan Su Chinese Garden. So, when I made my way there during this trip, it was my third visit to this teahouse. The garden in which the teahouse is located is small and absolutely stunning. Think beautiful stone mosaic walkways, blooming flowers including lotus (seasonally dependent, of course), graceful arches, and koi ponds. The teahouse is in the in the Tower of Cosmic Reflections. It's lovely, with very tall windows that open out onto the garden and outdoor seating along the koi pond (weather permitting).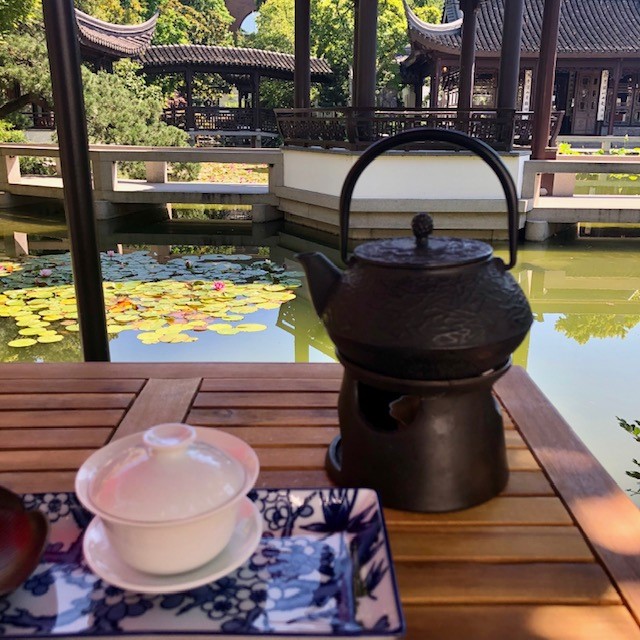 From this Portland teahouse, the views of the Lan Su Chinese Garden are stunning–the most beautiful views of any teahouse I have ever visited (yet!)–and totally worth the admission price of entering the garden. The tea selection is small, but curated to have something for everyone. I ordered gaiwan service and was very happy with the set up. There's also a menu of "light meals and snacks." I love to pair my tea with one of their tasty mooncakes when I visit.
Your Thoughts on Portland Teahouses?
Have you visited these teahouses, or any others, in Portland? I'd love to hear your perspective! I invite you to share your thoughts in the comments.