This post shares tasting notes for three delightful teas from Teawala. Read on for my thoughts on their Khiri Gold (black tea from Thailand), Rice Oolong (oolong tea processed with an herb from Thailand), and Ruby Red (black tea from Taiwan).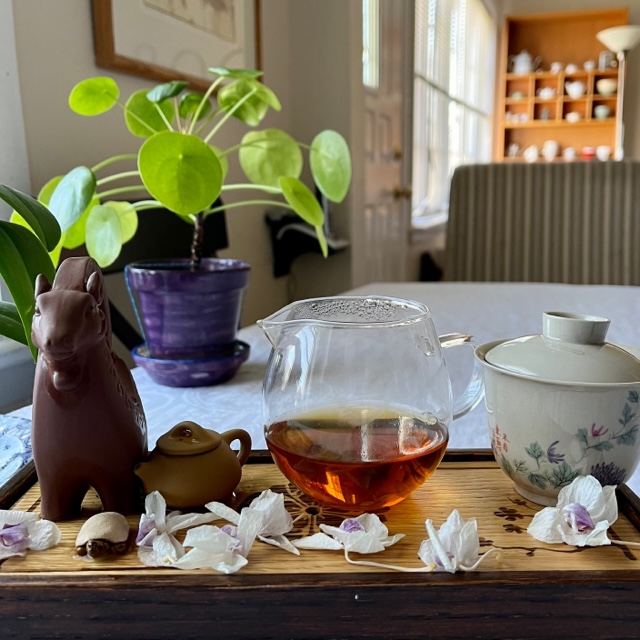 First Tea from Teawala: Khiri Gold
Khiri Gold is an elegant, uplifting black tea from Taiwan. It has long, twisted, and very dark tea leaves with touches of golden brown. It's grown in Thailand from a black tea made from an oolong cultivar, according to Teawala.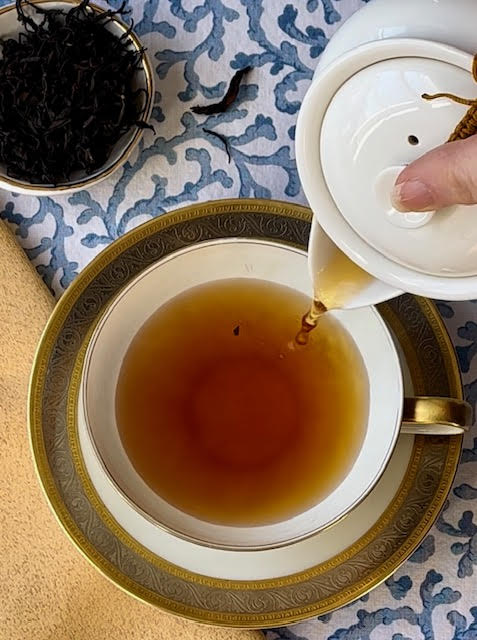 This tea smells and tastes delightful. My tasting notes include honey, plums, and lilies. The fruit and the floral notes are beautifully integrated and carry through many steeps. I enjoyed Khiri Gold immensely both western style and gongfu style. (This tea stays delicious for many steeps!)
Second Tea from Teawala: Rice Oolong
Rice Oolong is such an unexpected delight. It's cozy and fun. Your smell and taste receptors will insist that there is a cup of fragrant oolong and a steaming bowl of sticky rice, even though your eyes will confirm there's "only" a cup of tea. In fact, there isn't any rice in this tea. The tea is processed with an herb that is nicknamed "sticky rice herb" in Thailand. Interestingly, the tea and the herb, according to Teawala's website, go through the whole tea process together. These flavors are friendly, supportive, and playful together.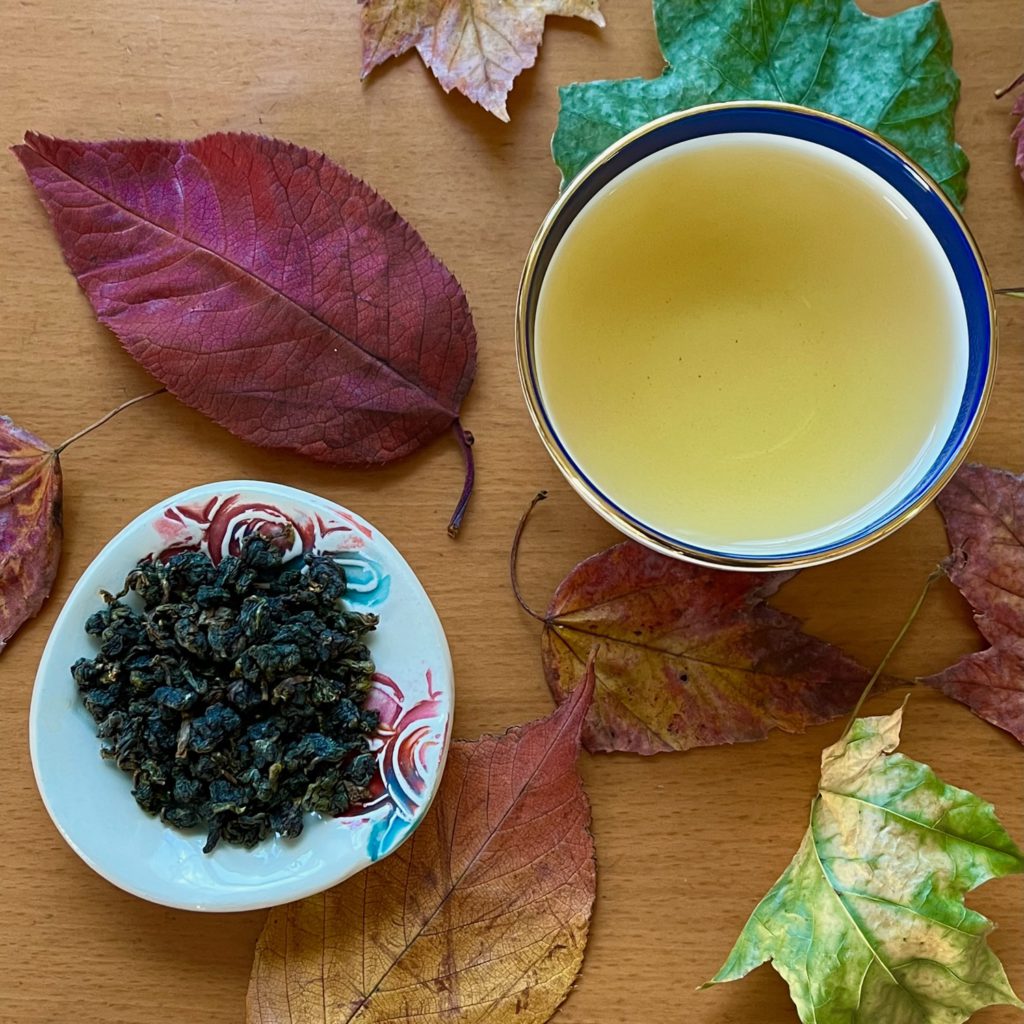 Rice oolong tea, despite not containing rice, does leave a slightly starchy mouthfeel just like sticky rice! My palate identifies sticky rice, cream with a touch of vanilla, maybe a touch of corn in later infusions. Other notes that I can't name also come through. Teawala's tasting notes for Rice Oolong also include pandan. I have never had pandan, so I can't identify that flavor. If pandan is one of the other amazing notes I am smelling and tasting in this tea, I need to make it a priority to seek out some desserts with this ingredient!
Third Tea from Teawala: Ruby Red
Ruby Red is sometimes called "Sun Moon Black, Red Jade, or #18," as Teawala's notes share. The dry leaves are long, very dark brown, with touches of coppery red. I have been steeping and thoroughly enjoying this Taiwanese tea.
Ruby Red smells and tastes invigorating and cozy at all once. My tasting notes for this tea from Teawala include, for example, brown sugar, a mix of mint and eucalyptus, and at times a touch of lotus. As I sip it, I can also feel my heart center opening—maybe it's the way eucalyptus can open one's breathing passages, and that helps the heart center open? I am not sure, but I notice and appreciate that opening.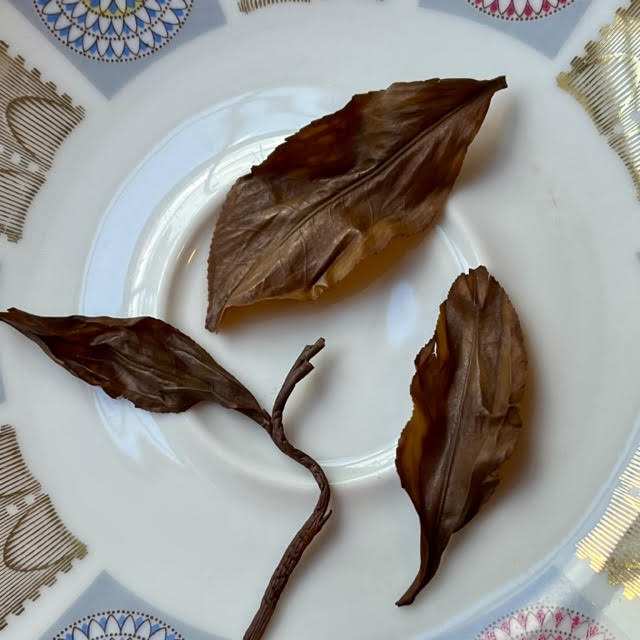 I thoroughly enjoyed preparing Ruby Red gongfu style. Although Teawala's website helpfully provides both gongfu and Western style brewing tips, I have only tried it the former way so far. I can attest that this tea stays delicious for many steeps!
More Thoughts on Teawala
So many tea people on Instagram have commented in private messages, stories, or posts to me how lovely they find Mona, the person who started Teawala. That has been my experience, too. From watching her "Instagram lives" where she radiates respect for the tea growers, to her kind and generous responses to others in the communiTEA, Mona brings heart to her tea business.
I'm grateful that Teawala shared several of their lovely teas with me and accepted my review policy, which is available here. I look forward to exploring other teas that they have lovingly curated.
Which of the three teas above tempt you the most? I'd love to know and invite you to comment. 🙂
Just for fun, if you enjoy informal quizzes that *might* help you understand yourself a little bit better, check out "What Kind of a Tea Guest Are You?"