Looking for gift ideas for tea lovers and aren't sure where to start? This post shares some ideas for tea-themed items. It is part one of a two-part series. (Post reviewed and updated on 11/24/23.)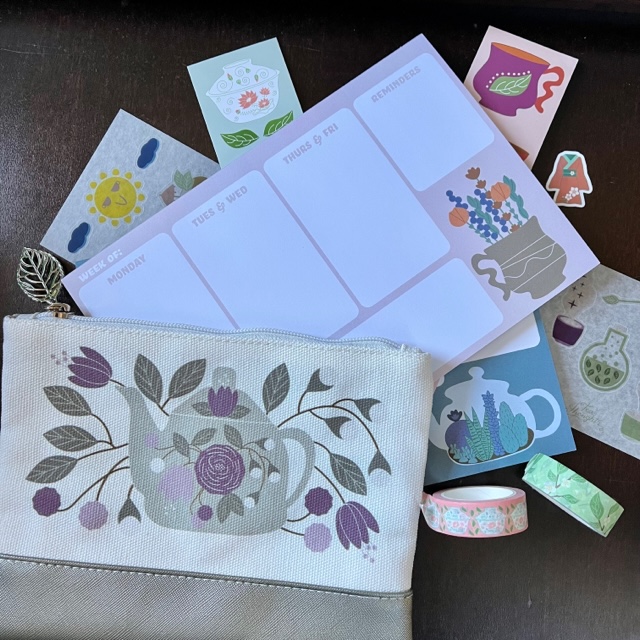 Stationery, Pins, and More for Tea Lovers
Maybe the tea lover for whom you are buying a gift already has plenty of tea on hand. So, you are looking for other gift ideas that honor their love for tea. Might they like some tea-themed items? I have bought and enjoyed so many fun and practical goodies from a shop that I love–Tea Thoughts! If your gift recipient enjoys things like washi tape, stationery, journals, puzzles, and/or pins, Tea Thoughts carries a wonderful selection overwhelmingly designed by the creative owner, Nazanin.
New products and choices frequently appear in shop updates. Items might feature the tea plant, teapots, gaiwans, bowls of matcha, etc. At different times of the year, Tea Thoughts also offers very fun and popular "count down" boxes. The boxes include a series of hand-wrapped gifts to open over a period of time in a certain order. They are delightful! And, buying from Tea Thoughts supports a woman-owned small business.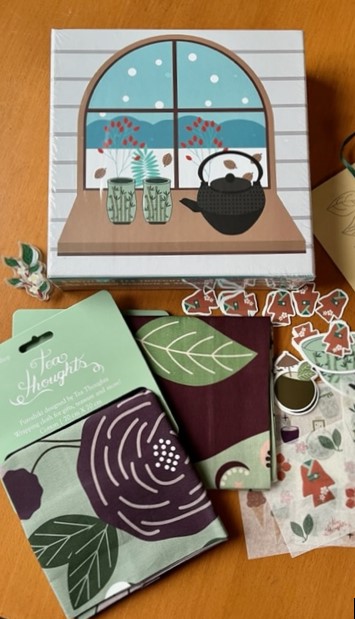 Give Tea-Themed Clothing
Another gift idea for tea lovers is tea-themed clothing items. There are several different approaches you might try.
First, in addition to the products mentioned above, Tea Thoughts regularly carries apparel, often including tea-themed socks, t-shirts, tote bags, etc. The shop's apparel features elegant and/or fun images of tea or teaware. Over the years, I have accumulated a number of pairs of Tea Thoughts' socks. They are so cute and comfy, and the shop often has different styles to choose from.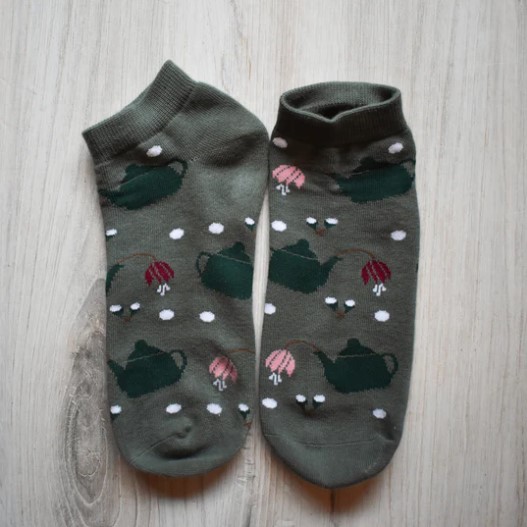 Another strategy to find tea-themed clothing is to go to Etsy and type "tea shirt," for example, into the search box. You'll find lots of products. The more you know about the kind or style of tea that the gift recipient enjoys, the more specific you can be in your search. For example, try "boba shirt" or "teapot shirt" or "matcha shirt."
One more thing to consider! If there is a local teahouse or tea shop that you know your gift recipient loves, you could investigate whether the shop sells t-shirts or other accessories featuring their logo. It's always lovely to support your local teahouse!
I hope this post inspired you. Looking for more ideas, check out "Gift Ideas for Tea Lovers, Part II."
Like to stay in touch?
You'll receive an email when the newsletter posts, plus advance notice of events, discounts, and other subscriber goodies. And, you can unsubscribe at any time.
Looking to entertain or bake some cookies as gifts? Check out my post with a recipe for "Earl Gray or Orange Zest Shortbread Cookies with Chocolate." These cookies are also delicious without the Earl Gray.