Valentine's Day is coming up! Maybe a romantic restaurant dinner for two, an in-person Galentine's tea party with our Besties, or another ritual we used to do can't be safely done this year. The disruptions are disappointing. Daily and seasonal rituals are so important. Finding a way to safely honor the time and mark the season can restore our sense of control and a bit of normalcy. This post shares Valentine's teas and Valentine's tisanes to celebrate the season!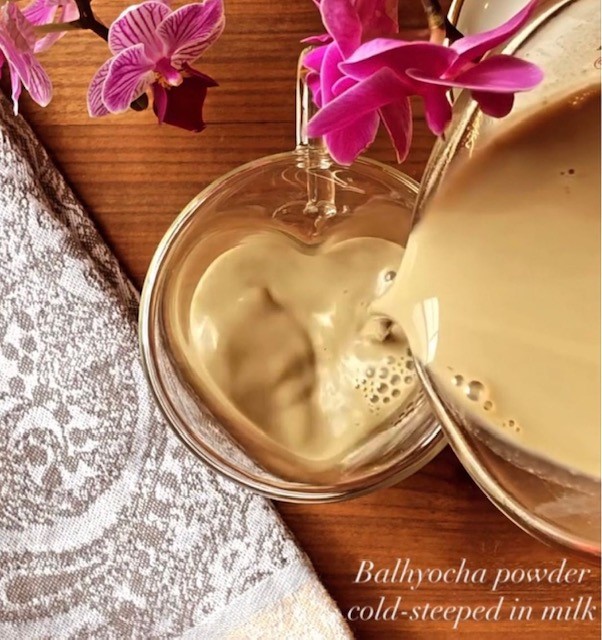 What's more Galentine's and Valentine's than chocolate, pink, and red? Here's a fun way, with a twist, to infuse the flavor of chocolate and the colors of the holiday into your February. I heartily recommend three Valentine's teas and three Valentine's tisanes that will get the job done deliciously.
Valentine's Teas
Black Teas with Chocolate Notes
I have never loved teas with added chocolate "flavoring." (If you know one, please let me know in the comments!) Happily, some unflavored teas–i.e., pure leaves from the Camellia sinensis plant–naturally have delicious chocolate notes. Let's start with three teas that don't contain any added ingredients or flavors, but deliver chocolate in their flavor profiles.
Black Matcha according to the Tea Dealer's website, is a black tea from Korea, "stone ground using the same machines as traditional Japanese matcha, resulting in a powdered tea similar to what was used during the Song dynasty in China." (It's powdered Balhyo Cha tea, I later learned from Soocha Tea.) Tea Dealers' tasting notes for Black Matcha include cocoa. The first time I saw the tea, I was sure it really was cocoa powder and that I had misread the description! When I whisked up a bowl, I couldn't get over the deep cocoa flavor in this tea! My favorite way to prepare Black Matcha is with cooler water than recommended. At around 160F, it whisks well and delivers maximum cocoa notes. It's also delicious as a latte. (You can read more about this multiple ways to serve this tea in this post I wrote focusing on Balhyo Cha.)
Feng Huang is a hong cha (what is called "red tea" in China and "black tea" in the West ). It's great brewed and served hot. I never noticed any chocolate notes when preparing it the traditional way. The description from Camellia Sinensis–the Canadian tea store from which I bought it–also doesn't mention chocolate in the tasting notes. (Fair enough: tasting notes are based on how a tea tastes brewed the traditional way.) One summer I cold steeped it and I was very surprised by the delicious chocolate flavor that appeared! Cold steeping is an easy and low-energy way to make delicious iced tea. For the basics on how to cold steep tea, check out this helpful guide by Sara @tea_happiness, a knowledgeable tea blogger.
Matcha That Tastes of Chocolate
Kiwami from Kettl, is a matcha with pronounced chocolate notes. I was skeptical when I read the tasting notes–"creamy, chocolatey matcha tea with zero astringency and a long lasting finish." How could a pure matcha taste anything like chocolate? I don't know how, but it absolutely does take like cream and chocolate. This matcha delivers lush flavors and umami. Kiwami has pushed my understanding of how complex, delicious, and naturally sweet a very high-quality matcha can be. Whisk up a bowl or chawan of Kiwami and enjoy the chocolate notes in this matcha.
What goes better with tea than cookies? If you are interested in baking some homemade cookies to go with your Valentine's teas, check out my post on Earl Grey and Orange Zest Shortbread Cookies!
Pink Valentine's Tisanes
Maybe you would like to avoid caffeine, or would simply enjoy a pink latte or tisane to toast Galentine's or Valentine's Day. I recommend some delicious Valentine's tisanes.
For a lovely floral latte, try this beautiful and aromatic recipe from a wonderful tea blogger with great recipes, Daniela @teacachai. Her Rose Latte includes a (natural) secret ingredient that increases the pink power of this fragrant drink. I really love it. (My personal preference is to halve the amount of the secret ingredient in the recipe.) Click here for her Rose Latte recipe (and to find out the secret).
If you are in the mood for something sparkling and cold, try my Rose Ginger Bubbler variation. Rose and ginger are heavenly together. Make the rose base according to Daniela's Rose Latte recipe and add a few slices of fresh ginger root while it's infusing. Chill the infusion and sweeten, if desired. Pour over ice and top with seltzer. It's also good hot.
Red Valentine's Tisane
Maybe you're more #TeamRed than #TeamPink. I suggest my favorite hibiscus blend, the Hibiscus Cinnamon tisane from Taka Turmeric. I enjoy this blend without adding more sugar than I am comfortable using (an issue I have with some hibiscus tisanes). The cinnamon beautifully balances the hibiscus and adds a natural sweetness. I love it! (It also contains turmeric and other ingredients.) You can buy the tisane here if ordering from the U.S., here if ordering from the UK or another country. You can, of course, drink it hot. Personally, I love to pour it over ice. (Note: I have no financial arrangement with Taka Turmeric, but I did receive this tisane as a free sample with no obligation to post. It's the only tea or tisane in this post that I didn't pay for myself.)
If you have tried any of these recommended Valentine's teas or tisanes or have a favorite chocolate, pink, or red tea or tisane to recommend, please tell us in the comments. Cheers!